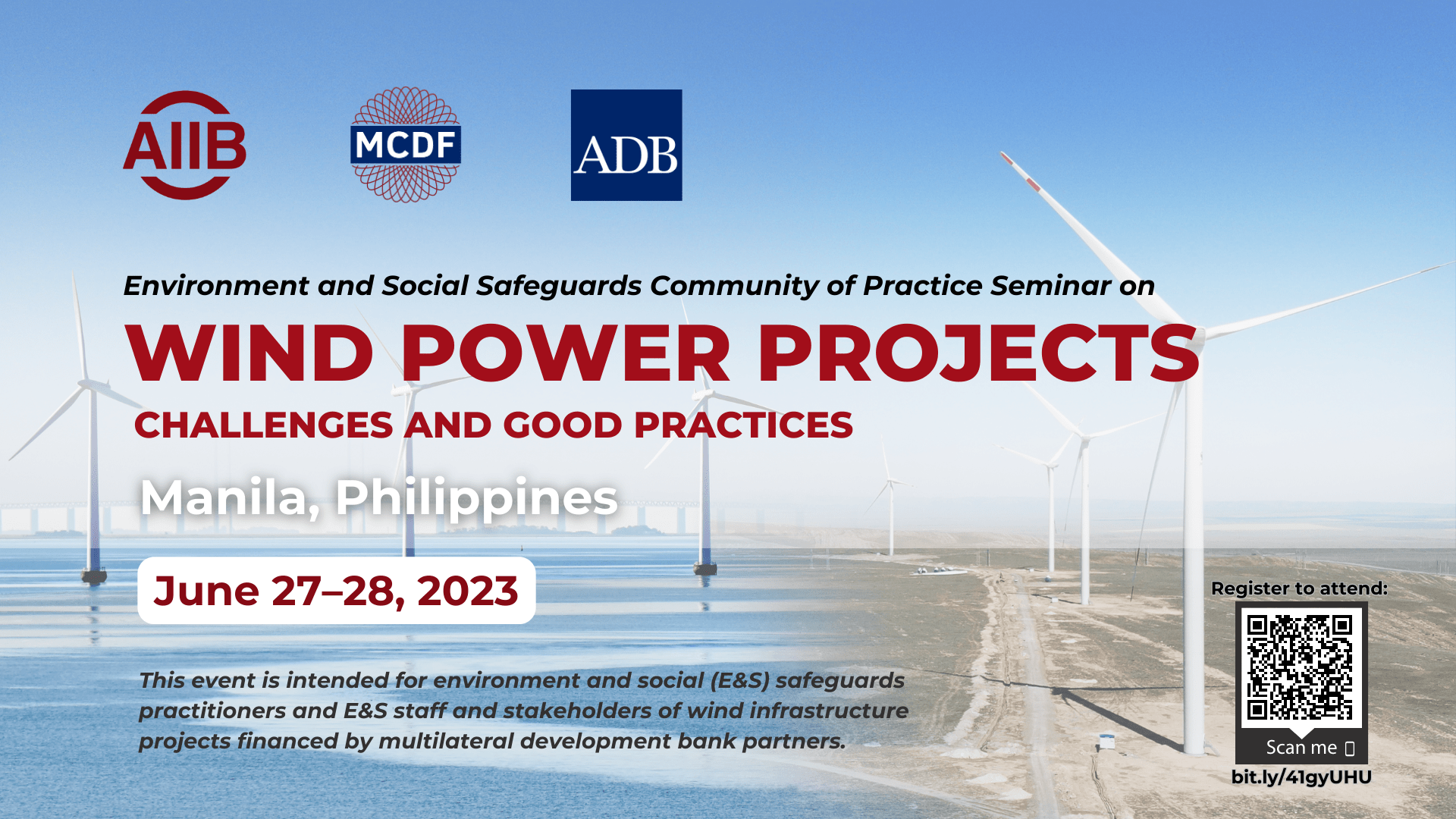 Environment and Social Safeguards Community of Practice Seminar on Wind Power Projects: Challenges and Good Practices
433
433 people viewed this event.
It is our pleasure to cordially invite you and relevant colleagues from your institution to participate in this 2-day hybrid event intended for E&S safeguards practitioners and E&S staff and stakeholders of wind infrastructure projects financed by MDB partners.
Overview:
Developing sustainable energy and infrastructure, and promoting intra-regional collaboration are key to achieving Paris Climate Agreement Goals. Wind power has a significant role to play as a renewable energy alternative to fossil fuels and in mitigating greenhouse gas emissions.
It is important to acknowledge that wind power projects also involve environmental and social risks that need to be assessed, mitigated, and managed appropriately. These include impacts on marine and avian biodiversity, community access to fishing grounds (for offshore wind farms) and arable land (for onshore wind farms), noise emissions, shadow flickering, and visual impacts. Offshore wind farms offer the technical advantages of higher and more consistent wind speeds but have impacts on marine fauna particularly marine mammals due to the propagation of noise and vibration.
To discuss these aspects in depth, Asian Infrastructure Investment Bank, in partnership with the Multilateral Cooperation Center for Development Finance and Asian Development Bank, is organizing the Environmental and Social (E&S) Safeguards Community of Practice (CoP) seminar with a focus on the environmental and social issues and opportunities arising from the implementation of wind power projects. The seminar aims to present and discuss good practices to manage E&S risks on wind power projects that can be practically applied by market players and emerging market financiers in Asia. This is by sharing knowledge between specialists and practitioners on the environmental and social impacts of wind power projects.
Target audience:
(i) Environment and social (E&S) safeguards practitioners and investment operations staff of international Financial Institutions
(ii) Relevant stakeholders of infrastructure projects in the wind power sector
Format:
The event is planned as a two-day hybrid seminar, to be held at ADB Headquarters in Manila and online on Zoom. Presentations and discussions will be held in English. Presentation content and knowledge products will be uploaded on the MCDF JIGSAW Platform and on ADB's Development Asia website. Participants will be engaged through small group discussions, quick-answer Apps, as well as through question-and-answer sessions at the end of each panel discussion.
Feedback and Evaluation:
An online form will be sent to all participants to share feedback and suggestions on the seminar.
How can I attend this event?
This is a hybrid event.
Face-to-face participation is limited and intended for E&S safeguards practitioners, E&S staff, and stakeholders of wind infrastructure projects financed by MDB partners. Please use the Register button to express your interest in participating online or face-to-face. Registration will be subject to review and invitation.
Deadline of Registration
To those who would like to apply for face-to-face participation, please make sure to register by June 8, 2023. For online participants, please register by June 15, 2023.